Resource Center
The business case for reducing patient wait times

In some outpatient clinics, exam rooms are used less than half of the time the clinic is open, while at the same time, the average wait time in the waiting area is high (1) (2) (3).
Effective room sharing policies increase can achieve a 10-20% increase in patient volume, reduce patient wait times, and improve Exam Room utilization by improving physicians' access to rooms, reducing idle time, and improving clinical performance by reducing clinic closing time.
As we've mentioned in our earlier blog post, long wait times erode patient satisfaction. As depicted by the table below, patient dissatisfaction negatively influences the likelihood of repeat visits.
Jeanne Hill, C & Joonas, Kishwar. (2005). The Impact of Unacceptable Wait Time on Health Care Patients' Attitudes and Actions. Health marketing quarterly. 23. 69-87. 10.1300/J026v23n02_05.
High performing care teams don't take patient churn as a given, they see it as an opportunity.
Long patient wait times negatively impact patients, providers, and practices. Athenahealth looked at 4.2 million patient appointments across 13,000 provider brackets and found that patient cancellation rates increased as the wait time increased.
Increased wait times negatively influences the likelihood of recommending the doctor to others.
According to the 9th Annual Vitals Index, 84 percent of people believe wait time is either "somewhat important" or "very important" to the overall experience at a doctor's office. In fact, 30 percent of people reported they've walked out of an appointment due to long waits. What's more, 1 in 5 report they've changed doctors because of long wait times (4).
Shown below are the results from the 9th Annual Vitals Index showing a strong correlation between individual physician rankings (1-5 Stars) and the amount of time a patient waits (minutes).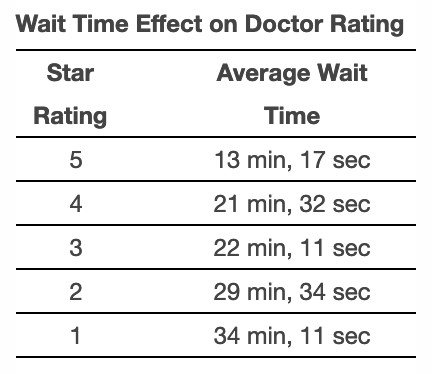 Hospital, inpatient, and outpatient settings are increasingly subject to Value-Based Payments (VBP) and other Pay-for-Performance (P4P) contracts that are tied to assessments of quality such as patients' perceptions of the care provided.
High-performance teams looking to increase reimbursement tied to VBP contracts should optimize their performance on measures related to patient experience, patient wait times being one such example (5).
Additionally, VBPs reward providers who promote care delivery in the most efficient settings. Key to value based care is more treatment in ambulatory settings. Reducing wait times can increase outpatient access by 10-20% (link to room room-sharing blog post), bolstering the shift to value-based care.
Physician referrals are crucial for health system profitability. Ensuring that individual physician practices have a good experience, trust in those physicians, we think will help health systems ensure high quality across their network and maintain or grow their downstream physician revenue streams.
Maintaining this quality or perceived quality, is vital, as each physician generate $2,378,727 in average annual net revenue (6).